Mar

25

2020
COVID-19 Update Regarding MassMutual Center Events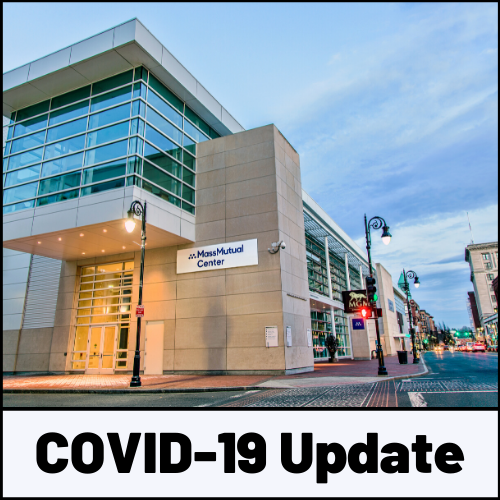 SPRINGFIELD, MASS. (March 25, 2020) – MassMutual Center is following Governor Charlie Baker's order announced on March 23 prohibiting events with groups of 10 or more. We are currently working with our clients to reschedule events that are booked at our facilities in the immediate future to a later date.
The majority of our events, meetings and convention business has indicated that they will be postponing, rather than cancelling their events.

FOR CANCELLED EVENTS: Orders purchased with a credit card will be refunded automatically to the credit card used for purchase. Please allow up to 30 days for this refund to reflect with your financial institution.
Guests who purchased tickets with cash may present tickets at the original point of sale for a refund. Please contact our Box Office with inquiries at 413-787-6600 or [email protected]
For guests who utilized a third party to secure tickets, please reach out to your original point of purchase for information regarding a credit.
FOR RESCHEDULED EVENTS: If your event has been rescheduled for a new date, you will be able to attend the newly rescheduled date with your existing tickets.
FOR EVENTS PENDING UPDATES: If your event has been postponed and no new date has been announced, we encourage you to hold onto your tickets for the new date.

Please reach out to the MassMutual Center Box Office with questions or concerns. The Box Office can be reached via email at [email protected] Please note the Box Office is closed until further notice. If you need to leave us a message, please call 413-787-6600. This number will be checked periodically for messages.

Below is a current list of events which have either been postponed or cancelled at this time.

ARENA:
WWE Road to WrestleMania, March 21 – The WWE live event originally scheduled for Saturday, March 21 in Springfield, MA has been postponed and rescheduled for Saturday, November 7. All original tickets will be honored for that event.

For King & Country, May 3 - Out of an abundance of caution and in accordance with the recent government-mandated safety precautions in response to COVID-19, burn the ships | The 2020 Spring Encore tour has been rescheduled to June 20. If you are able to join us on this rescheduled date and have your tickets, you do not need to do anything - your tickets will be honored at the new date.

Springfield Thunderbirds
The American Hockey League has suspended play. Click here for the official statement.

AIC Men's Ice Hockey
Atlantic Hockey, in a joint decision made by the Commissioner and the Board of Directors, has cancelled the remainder of the 2020 Atlantic Hockey Tournament. Click here for the full statement.


CONVENTION CENTER:
Diocese of Springfield, March 20-21 – postponed
Realtors Association 2020 Education Fair & Expo, March 24 – cancelled
Bay Path Women's Leadership Conference, March 27 – postponed
Encore Dance Championships, April 3-5 - cancelled
Living Waters Church event, April 10 - cancelled
USA Gymnastics Level 7/8, April 17-19 - cancelled
USA Gymnastics Level 9/10, April 23-25 - cancelled
Geico, May 5-7 – postponed

MassMutual Center is open for future bookings! If you need to change the dates of an event that hasn't been accommodated by another venue or are simply looking for a date in the future, don't hesitate to reach out to Jim at [email protected]
MASSMUTUAL CENTER'S NOVEL CORONAVIRUS (2019-nCOV) RESPONSE PLAN
MassMutual Center adheres to the recommendations set forth in the U.S. EPA's Emerging Pathogen Policy regarding cleaning disinfectants effective against the Novel Coronavirus (2019-nCOV).
MassMutual Center's Public Safety team will remain in contact with and monitor local, state and federal health agencies for updates as information becomes available.
The U.S. Center for Disease Control and Prevention recommends that everyone follow follow everyday prevention practices:
Cover your mouth and nose with a tissue or your sleeve (not your hands) when coughing or sneezing.
Wash your hands often with soap and water for at least 20 seconds, especially after going to the bathroom; before eating; and after blowing your nose, coughing, or sneezing.
Avoid touching your eyes, nose, and mouth with unwashed hands.
If soap and water are not readily available, use an alcohol-based hand sanitizer with at least 60% alcohol. Always wash hands with soap and water if hands are visibly dirty.
Most importantly "Stay Home If You Are Sick".

MassMutual Center has positioned hand sanitizer stations in key high-traffic areas throughout the facility. Additionally, MassMutual Center's maintenance teams are taking health and safety measures including but not limited to both cleaning and thoroughly disinfecting common areas and surfaces during the day, the following areas: counters, floors, escalator hand rails, elevators, doors, hand rails, bathrooms, etc. Education and awareness has been extended to all team members on standard personal preventative measures, using sanitizing/disinfection products, etc.

For more information on the Novel Coronavirus (2019-nCOV) please follow the links below:
https://www.who.int/emergencies/diseases/novel-coronavirus-2019
https://www.cdc.gov/coronavirus/2019-ncov/index.html
https://www.mass.gov/resource/information-on-the-outbreak-of-coronavirus-disease-2019-covid-19