May

16

2023
FOR IMMEDIATE RELEASE | BASKETBALL HALL OF FAME CLASSIC TO BE HELD AT MASSMUTUAL CENTER ON SATURDAY, DECEMBER 16
SPRINGFIELD, MASS. (May 16, 2023) – The Naismith Basketball Hall of Fame announced the field of teams for the Basketball Hall of Fame Classic at the MassMutual Center on Saturday, December 16. Florida Atlantic, whose 2022-23 season culminated in a Final Four berth, will join UMass, West Virginia, and St. Bonaventure in an exciting doubleheader.
Saturday, December 16
UMass vs. West Virginia
Florida Atlantic vs. St. Bonaventure
"We are thrilled to welcome these four teams to Springfield in December for what is sure to be an exciting doubleheader," said John L. Doleva, President and CEO of the Naismith Basketball Hall of Fame. "Since the City of Springfield is the birthplace of basketball, we look forward to providing a unique experience to the teams and their fans which will include a visit to the Hall of Fame."
The Basketball Hall of Fame Classic is one event in the Hall of Fame's series of collegiate events, which continues to grow in an effort to celebrate the game outside the museum walls. The Naismith Basketball Hall of Fame is proud to continue its relationship with LEARFIELD for sponsorship representation of its portfolio of collegiate events and Position Sports in an event operations, content and communications capacity.
Tickets for the 2023 Basketball Hall of Fame Classic will go on sale Friday, June 2, via massmutualcenter.com and the MassMutual Center Box Office. Game times and television broadcast details will be released at a later date. For more information, please visit hoophall.com.
Quotes from Participating Head Coaches
"Once again, the proximity of our campus to the Basketball Hall of Fame has created a wonderful opportunity for our UMass basketball program in giving us an opportunity to schedule a former Atlantic 10 opponent in West Virginia in the Hall of Fame Classic in Springfield. It is a wonderful opportunity to bring recent Hall of Fame inductee Bob Huggins, who is also my mentor, back to Springfield to play a game that should mean a lot to him and to us at UMass." – Frank Martin, UMass
"We are thrilled to play UMass in the Basketball Hall of Fame Classic. I'm sure some of our fans will remember and appreciate the great conference games that WVU and UMass had years ago, including when I played. Obviously, Frank Martin and I are very dear friends, and I have a tremendous amount of respect for him as a coach and as a person. I know how hard his teams play, how well coached they are and they will be extremely well prepared for us. We look forward to having Mountaineer Nation in Springfield for the game in addition to hoping they visit the Naismith Basketball Hall of Fame." – Bob Huggins, West Virginia
"The Bonnies are excited to take part in the Basketball Hall of Fame Classic next season in Springfield. FAU had a terrific season and we anticipate them being really good again next year with everyone coming back. To play a Final Four team on a neutral court, it was too good of an opportunity to pass up. These are the types of games that we want to play every season." – Mark Schmidt, St. Bonaventure
"We are excited to play in such a prestigious event against a storied program like St. Bonaventure." – Dusty May, Florida Atlantic
About MassMutual Center
MassMutual Center is managed by the entertainment and hospitality industry leader, MGM Springfield, and owned by the Massachusetts Convention Center Authority. MassMutual Center is Western Massachusetts' most diverse function space with over 100,000 sq. ft. of meeting space including a 40,000 sq. ft. flexible exhibit hall, five fully-functional meeting rooms, a 15,000 sq. ft. ballroom, and an 8,000-seat arena. The facility is the proud home to the AHL Springfield Thunderbirds and American International College D1 Men's Hockey team, in addition to hosting family shows, concerts, meetings, social and corporate functions, sporting events and more.
About the Naismith Basketball Hall of Fame

Located in Springfield, Massachusetts, the city where basketball was born, the Naismith Basketball Hall of Fame is an independent non-profit 501(c)(3) organization dedicated to promoting, preserving and celebrating the game of basketball at every level – men and women, amateur and professional players, coaches and contributors, both domestically and internationally. The Hall of Fame museum is home to more than 400 inductees and over 40,000 square feet of basketball history. Nearly 200,000 people visit the Hall of Fame museum each year to learn about the game, experience the interactive exhibits and test their skills on the Jerry Colangelo "Court of Dreams." Best known for its annual marquee Enshrinement Ceremony honoring the game's elite, the Hall of Fame also operates over 70 high school and collegiate competitions annually throughout the country and abroad. For more information on the Basketball Hall of Fame organization, its museum and events, visit hoophall.com, follow @hoophallU or call 1-877-4HOOPLA.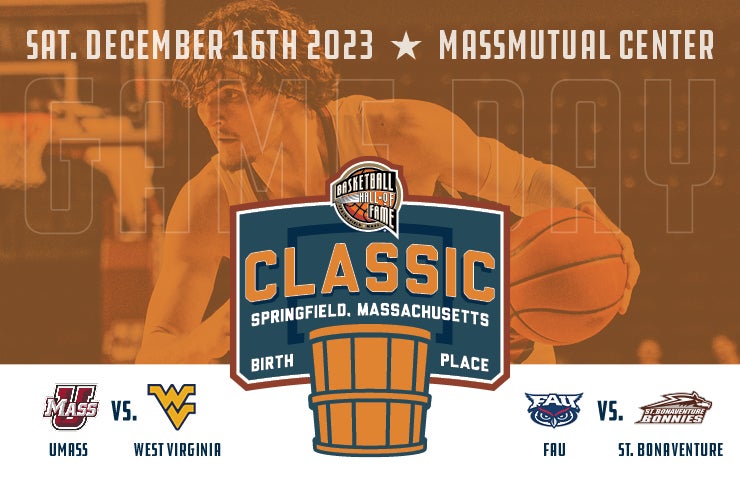 UMass vs. West Virginia
Florida Atlantic vs. St. Bonaventure