Nov

20

2023
For Immediate Release | Boys & Girls Clubs of Springfield Officially Opens for the 23rd Annual Festival of Trees
Boys & Girls Clubs of Springfield Officially Opens for the 23rd Annual Festival of Trees
Springfield- The Boys & Girls Clubs of Springfield officially opens the 23rd Annual Festival of Trees on Friday, November 24th, at MassMutual Center in downtown Springfield. Opening day will include FREE ADMISSION all day from 10:00 a.m. until 8:00 p.m. The Festival of Trees, hosted by the Boys & Girls Clubs of Springfield, is known to be the original Festival of Trees in the greater Springfield area.
Opening Day is magical at The Festival of Trees. At 12:00 pm Comedy Juggler Bryson Lang entertains followed by The Magic of Illusionist David Garrity at 1:30 pm. We would like to thank Eastman Indian Orchard Operations for sponsoring the opening day entertainment of this festival. Contributions like these make magic possible while supporting our mission.
Over 120 twinkling decorated trees bring holiday nostalgia to MassMutual Center. Visitors to the Festival of Trees are invited and encouraged to purchase raffle tickets for chances to win the trees, and all gifts associated with the tree valued from $200-$2,000! Tree raffle tickets are $10 for 25 chances. All trees will be raffled off at the end of the Festival on December 10th. Winners will be notified by phone to pick up their tree on Monday, Dec 11th. Additionally, a special 50/50 raffle is also available for those who want to provide further support to the youth of the Boys & Girls Clubs for $5 a ticket. The winner will be pulled and notified on December 10th.
Once the Festival opens on Nov. 24th, hours are Wednesdays, 11 am – 5 pm; Thursdays 11 am- 8 pm; Fridays and Saturdays 10 am – 8 pm; and Sundays 10 am – 5 pm. General Admission is $5; the cost for Seniors is $4 and children 12 and under are free. Military personnel, veterans, first responders, and their families are free with ID courtesy of AT & T.
Admission tickets can be pre-purchased at www.TreeRaffle.com. Please see our website for directions and parking options. There is a free shuttle during regular hours between MGM and The Festival of Trees.
Proceeds from the Festival of Trees benefit the Boys & Girls Clubs of Springfield, which serves more than 2,600 Springfield youth each year in areas such as athletics, academics, STEM, career readiness, health and nutrition, and leadership.
For more information about the Festival of Trees, visit www.TreeRaffle.com or call 413-732-7201.
---
About the Springfield Boys & Girls Club
The Boys & Girls Club of Springfield provides a safe environment and programs that inspire, educate, guide, enable, and support all young people to realize their full potential as productive, responsible, respectful citizens and leaders. The Club provides a safe place to learn and grow, foster ongoing relationships with caring adult professionals, engage in life-enhancing programs, and cultivate hope and opportunity. Great Futures Start Here!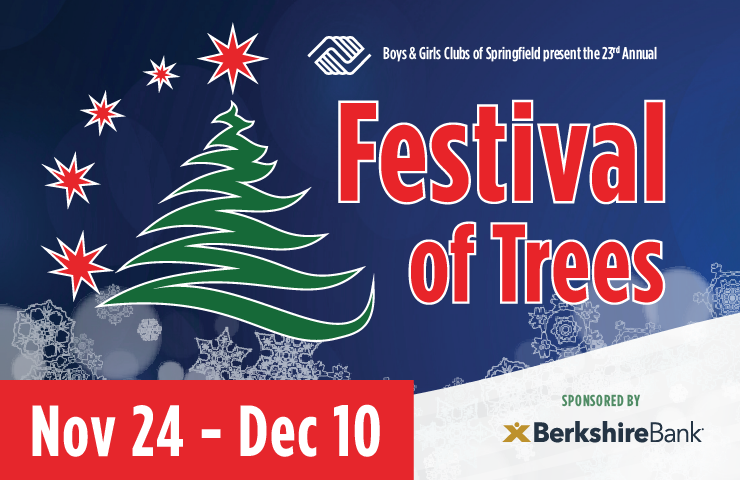 Friday: 10:00 am – 8:00 pm
Saturday: 10:00 am – 8:00 pm
Sunday: 10:00 am – 5:00 pm