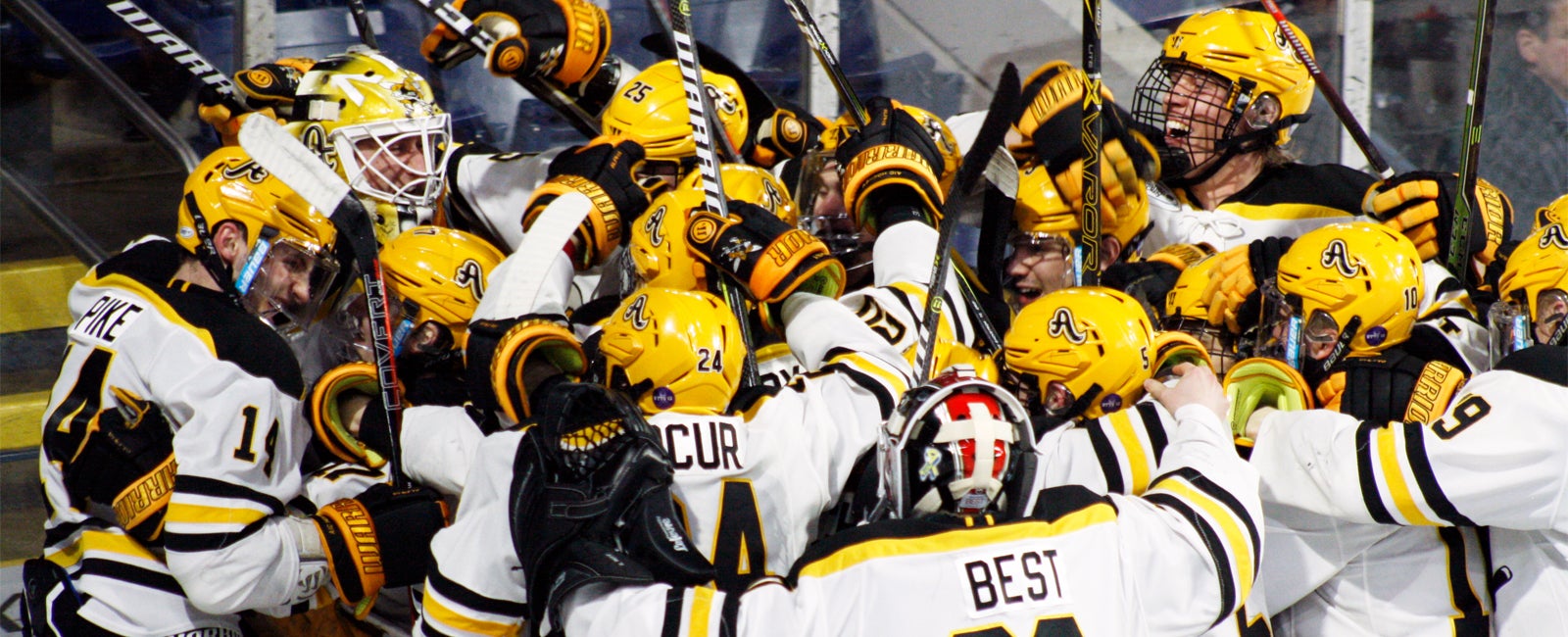 AIC Men's Hockey vs. Quinnipiac University
AIC Men's Hockey vs. Quinnipiac University
Single-game tickets will be $15, with a discounted price of $10 for seniors and veterans and $5 for children ages 5-15; children under 5 will be free, as will current AIC students, faculty, and staff. Other fees still apply.
In accordance with the Department of Health and Human Services (HHS) and Board of Health, the MassMutual Center will implement the City of Springfield's Mask Mandate that all attendees to the Arena and Convention Center will be required to wear a mask for all indoor events, regardless of vaccination status, unless actively eating or drinking.
The adult season ticket package is $130 total for all 18 home games, while senior/military season tickets are $85 and youth season tickets are $45. Other fees still apply.
Additionally, a special four-pack of tickets for the program's four nonconference games. This season, the Yellow Jackets welcome reigning national champion the University of Massachusetts, as well as Hockey East opponents Providence College and the University of Connecticut. Rounding out the slate is game with Quinnipiac University. A non-conference special is available for $48 for adults, $32 for seniors/military, and $16 for youth.
IMPORTANT - PLEASE READ:
ASSUMPTION OF RISK: The Venue operates and maintains its premises to protect against the exposure of the COVID-19 virus in accordance with federal and state guidelines. As noted by government health officials, complete isolation from the virus is impossible. Accordingly, the Venue cannot and does not promise to eliminate the risk of exposure to COVID-19 and cannot and does not promise that the Ticket Holder will not contract COVID-19. The Ticket Holder acknowledges that the Venue has informed him/her that the Venue is not risk-free, that it is possible that the Ticket Holder may contract COVID-19 during his/her presence at the Venue, and that Ticket Holder freely chooses to enter and/or reside in the Venue with awareness of the associated risks.
No Bags, backpacks, or brief cases except for:
1. Clutch/Purse no larger than 5"x 7"
2. Medical Bag
3. Diaper Bag (with child in attendance)
Cameras with interchangeable/detachable lens or external flash (No Professional Photography)
Audio/Visual Recording Devices (includes GoPro, Google Glass, Spectacles, etc.)
Selfie Sticks, Tripods, Monopods
Outside Food, Beverage, or Alcohol
Cans, Metal/Glass/Plastic Containers, Bottles, or Flasks (empty or sealed bottles included)
Laptops, Tablets, Personal Computers, or Two-Way Radios
Weapons, Firearms, Pepper Spray, Pocket Knives or Mace
Illegal Drugs or Substances
Flammable Liquids, Aerosol Cans, or Permanent Markers
Flashlights, Laser Pointers, Flares, or Fireworks
Noise Making Devices (i.e. Air Horns, whistles, bells, vuvuzelas, etc.)
Balloons, Balls, Projectiles, or Optical Illusions
Skateboards, Segways, Scooters, Rollerblades, Bicycles, Hover boards, and Helmets
Coolers, Ice Chests, Folding Chairs, or Pointed-Tip Umbrellas
Flowers (unless otherwise permitted by Tour Production)
Seat Cushions or Booster Seats
Patrons Without Shoes or Shirt
Masks, Chains, or Studded Belts/Bracelets
Drones (without prior written consent from MassMutual Center Management)
Animals or Pets (accommodations made for trained, harnessed, and housebroken service animals)
Unapproved Pamphlets, Handouts, Ads, or Flyers without prior consent from Arena Management
Clothing, garments, or signs displaying explicit language, profanity, or derogatory characterization toward any person(s)
Signs, Flags, or Banners exceeding 11" x 17" or attached to a pole/stick. Signs must be relevant to event. Signs may not contain or display obscene or offensive language and/or pictures as determined by MassMutual Center Management. Management reserves the right to prohibit or remove a sign or banner at any time.