Bruno Mars
Presented by MGM Springfield
Fourteen-time GRAMMY-Award winner and 30-time GRAMMY Award nominee Bruno Mars is a celebrated singer, songwriter, producer, and musician who has sold over 200 million singles worldwide, making him one of the best-selling artists of all time. Mars accepted Album Of The Year (An Evening with Silk Sonic) on behalf of the duo, Silk Sonic, during the 2022 BET Awards. Previously sweeping the 64th Annual GRAMMY Awards, the super duo took home four awards including Record Of The Year ("Leave The Door Open"), Song Of The Year ("Leave The Door Open"), Best R&B Performance ("Leave The Door Open"), and Best R&B Song ("Leave The Door Open"). This came after "Leave The Door Open" became Mars' 17th song to reach Multi-Platinum status.
Mars' 64th Annual GRAMMY win for Record of the Year, made him only the second artist in GRAMMY history to win the category three times, following Simon and Garfunkel.
Mars' critically acclaimed "Leave The Door Open" climbed its' way from No. 3 to No. 1 on the Billboard Hot 100, making it his eighth No. 1. He became one of the 18 artists in Hot 100 history to ever do so. 24K Magic marked his highest first week sales debut, remaining in the Top 10 on the Billboard 200 for an impressive 44 consecutive weeks. The lead hit single "24K Magic" is certified five-times Platinum by the RIAA and the follow-up smash, "That's What I Like" is certified ten-times platinum. "That's What I Like" also climbed to No. 1 on the Billboard Hot 100, marking Mars' seventh Hot 100 chart-topper and his first No. 1 on the Hot R&B Songs chart, where it remained at the top-spot for 19 consecutive weeks. His smash collab with Cardi B, "Finesse," skyrocketed to #3 on the Billboard Hot 100. The track surged up the chart from its #35 debut and followed Michael Jackson's "Black or White" as the second #35 to #3 jump in the Hot 100's history. The remix also marked Mars' fifteenth Hot 100 top 10 and fourteenth Hot 100 top 5.
Additionally, Mars became the first male and third act overall to have at least three top 5 Hot 100 hits from each of his first three albums, following only Mariah Carey and Beyoncé. Mars is also the first artist to have two songs spend 24 or more weeks in the Hot 100's Top 5 ("That's What I Like" and "Uptown Funk"). Honorably, Mars is one of the few artists to have written and produced all of his No. 1 hits and has had a No. 1 song on the Hot 100 from each of his first three studio albums.
With seven Hot 100 No. 1's, Mars was ranked No. 1 among male artists with the most Hot 100 No. 1s for this decade, extending his lead over Justin Bieber, Drake, Eminem, and The Weeknd. Mars traveled the globe from 2017-2018 on a massive 24K Magic World Tour, which sold more than 1 million tickets in a single day. In 2015, Mars dominated music charts with the hit single "Uptown Funk," which took home three GRAMMY Awards, including Record of the Year.
Public on-sale starts
Friday, April 14 at 10 a.m.

For more information, please visit
MassMutualCenter.com
This event will be a phone-free experience. Use of cellphones, smart watches, smart accessories, cameras, or recording devices will not be permitted in the performance space.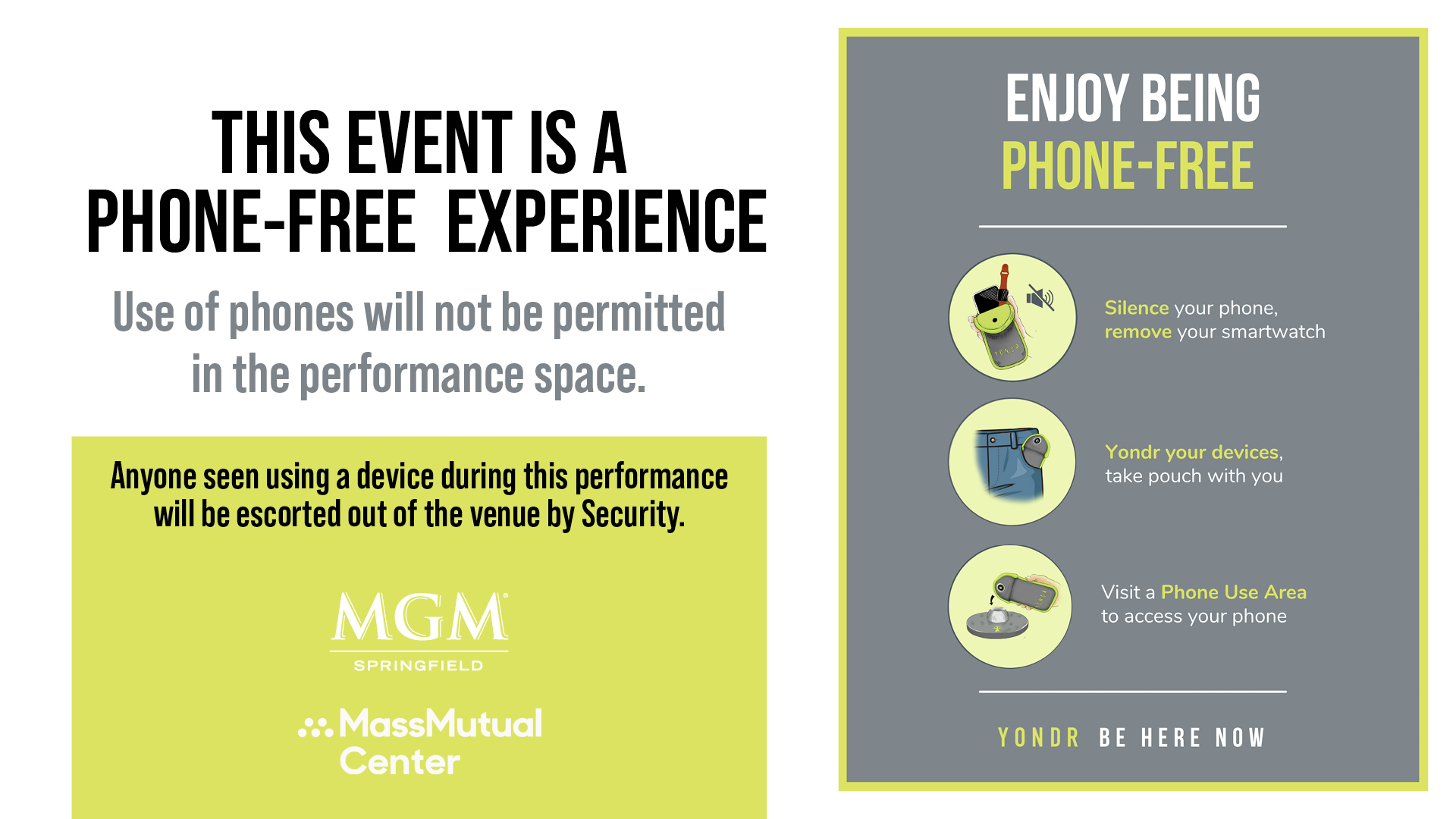 Upon arrival at the venue, all phones, smart watches, and accessories will be secured in Yondr pouches that will be opened at the end of the event. Guests maintain possession of their phones at all times, and can access their phones throughout the event at designated Phone Use Areas in the venue. All phones will be re-secured in Yondr pouches before returning to the event space.
Anyone seen using a cellphone during the performance will be escorted out of the venue. Guests are encouraged to bring a credit card for purchases inside the venue. We appreciate your cooperation in creating a phone-free viewing experience.
Limited complimentary accessible parking is available across from the MassMutual Center box office at the Bruce Landon Way surface lot (East Court Lot - 22 Bruce Landon Way). If you require accessible parking, a limited number of spaces will be available in this lot. You will be required to show your accessible vehicle hang tag to gain access to the lot.
Should the East Court Lot reach full capacity by your time of arrival to the MassMutual Center and you still require accessible parking, city street accessible spaces will be available on a first-come, first-served basis on the corner of Bruce Landon Way and Dwight Street. For a visual representation, please refer to the map below.
IMPORTANT - PLEASE READ:
ASSUMPTION OF RISK: The Venue operates and maintains its premises to protect against the exposure of the COVID-19 virus in accordance with federal and state guidelines. As noted by government health officials, complete isolation from the virus is impossible. Accordingly, the Venue cannot and does not promise to eliminate the risk of exposure to COVID-19 and cannot and does not promise that the Ticket Holder will not contract COVID-19. The Ticket Holder acknowledges that the Venue has informed him/her that the Venue is not risk-free, that it is possible that the Ticket Holder may contract COVID-19 during his/her presence at the Venue, and that Ticket Holder freely chooses to enter and/or reside in the Venue with awareness of the associated risks.
No Bags, backpacks, or brief cases except for:
1. Clutch/Purse no larger than 5"x 7"
2. Medical Bag
3. Diaper Bag (with child in attendance)
Cameras with interchangeable/detachable lens or external flash (No Professional Photography)
Audio/Visual Recording Devices (includes GoPro, Google Glass, Spectacles, etc.)
Selfie Sticks, Tripods, Monopods
Outside Food, Beverage, or Alcohol
Cans, Metal/Glass/Plastic Containers, Bottles, or Flasks (empty or sealed bottles included)
Laptops, Tablets, Personal Computers, or Two-Way Radios
Weapons, Firearms, Pepper Spray, Pocket Knives or Mace
Illegal Drugs or Substances
Flammable Liquids, Aerosol Cans, or Permanent Markers
Flashlights, Laser Pointers, Flares, or Fireworks
Noise Making Devices (i.e. Air Horns, whistles, bells, vuvuzelas, etc.)
Balloons, Balls, Projectiles, or Optical Illusions
Skateboards, Segways, Scooters, Rollerblades, Bicycles, Hover boards, and Helmets
Coolers, Ice Chests, Folding Chairs, or Pointed-Tip Umbrellas
Flowers (unless otherwise permitted by Tour Production)
Seat Cushions or Booster Seats
Patrons Without Shoes or Shirt
Masks, Chains, or Studded Belts/Bracelets
Drones (without prior written consent from MassMutual Center Management)
Animals or Pets (accommodations made for trained, harnessed, and housebroken service animals)
Unapproved Pamphlets, Handouts, Ads, or Flyers without prior consent from Arena Management
Clothing, garments, or signs displaying explicit language, profanity, or derogatory characterization toward any person(s)
Signs, Flags, or Banners exceeding 11" x 17" or attached to a pole/stick. Signs must be relevant to event. Signs may not contain or display obscene or offensive language and/or pictures as determined by MassMutual Center Management. Management reserves the right to prohibit or remove a sign or banner at any time.