Taco & Margarita Festival
Taco & Margarita Festival
MassMutual Center will host its first ever Taco & Margarita Festival on Saturday, October 7th .
This unique festival will not only include a variety of world class tacos and margaritas but live professional wrestling, local DJ, shopping and much more. Guests will be able to walk the concourse and arena floor with a day of food, drink and entertainment.
Two sessions will be offered from 11:00 a.m. - 2:00 p.m. and 4:00 p.m. to 7:00 p.m. VIP Admission will open at 10:00 a.m. and 3:00 p.m. and General Admission gates will open at 11:00 a.m. and 4:00 p.m. respectively.
General Admission is $10.00 for ages 6 and above. Children under 5 are free. VIP Tickets are available for $45.00 and include early admission, free beverages and much more!
The Civic Center Parking Garage is currently closed and under construction on Bruce Landon Way. Parking options are available with the Springfield Parking Authority along with MGM Springfield. Click here for directions and more information.
A limited number of accessible parking spaces are available on Bruce Landon Way and Dwight Street on a first-come, first-served basis. You will be required to show your accessible vehicle hang tag or have the accessbile plate on your vehicle in order to gain access to these spaces.
Should these locations reach full capacity by your time of arrival to the MassMutual Center and you still require accessible parking, city street accessible spaces will be available on a first-come, first-served basis.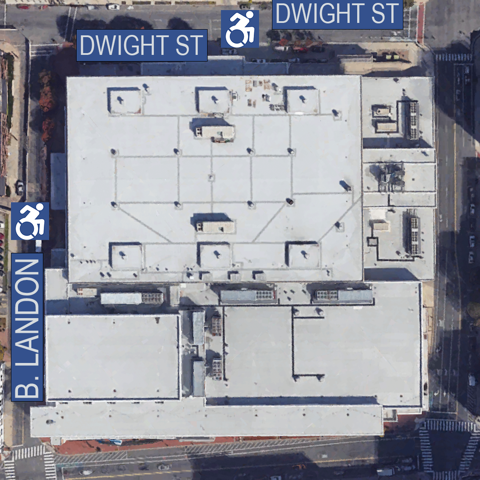 No Bags, backpacks, or brief cases except for:
1. Clutch/Purse no larger than 5"x 7"
2. Medical Bag
3. Diaper Bag (with child in attendance)
Cameras with interchangeable/detachable lens or external flash (No Professional Photography)
Audio/Visual Recording Devices (includes GoPro, Google Glass, Spectacles, etc.)
Selfie Sticks, Tripods, Monopods
Outside Food, Beverage, or Alcohol
Cans, Metal/Glass/Plastic Containers, Bottles, or Flasks (empty or sealed bottles included)
Laptops, Tablets, Personal Computers, or Two-Way Radios
Weapons, Firearms, Pepper Spray, Pocket Knives or Mace
Illegal Drugs or Substances
Flammable Liquids, Aerosol Cans, or Permanent Markers
Flashlights, Laser Pointers, Flares, or Fireworks
Noise Making Devices (i.e. Air Horns, whistles, bells, vuvuzelas, etc.)
Balloons, Balls, Projectiles, or Optical Illusions
Skateboards, Segways, Scooters, Rollerblades, Bicycles, Hover boards, and Helmets
Coolers, Ice Chests, Folding Chairs, or Pointed-Tip Umbrellas
Flowers (unless otherwise permitted by Tour Production)
Seat Cushions or Booster Seats
Patrons Without Shoes or Shirt
Masks, Chains, or Studded Belts/Bracelets
Drones (without prior written consent from MassMutual Center Management)
Animals or Pets (accommodations made for trained, harnessed, and housebroken service animals)
Unapproved Pamphlets, Handouts, Ads, or Flyers without prior consent from Arena Management
Clothing, garments, or signs displaying explicit language, profanity, or derogatory characterization toward any person(s)
Signs, Flags, or Banners exceeding 11" x 17" or attached to a pole/stick. Signs must be relevant to event. Signs may not contain or display obscene or offensive language and/or pictures as determined by MassMutual Center Management. Management reserves the right to prohibit or remove a sign or banner at any time.
IMPORTANT - PLEASE READ:
ASSUMPTION OF RISK: The Venue operates and maintains its premises to protect against the exposure of the COVID-19 virus in accordance with federal and state guidelines. As noted by government health officials, complete isolation from the virus is impossible. Accordingly, the Venue cannot and does not promise to eliminate the risk of exposure to COVID-19 and cannot and does not promise that the Ticket Holder will not contract COVID-19. The Ticket Holder acknowledges that the Venue has informed him/her that the Venue is not risk-free, that it is possible that the Ticket Holder may contract COVID-19 during his/her presence at the Venue, and that Ticket Holder freely chooses to enter and/or reside in the Venue with awareness of the associated risks.